---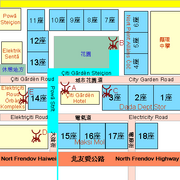 Çiti Gārdèn Steiçion(城市花園站) wa Frendov MTR Lain 1 dè steiçion à Ist Frendov-çiti dè Käpitol West.
Loukeiçion
Edit
Çiti Gārdèn Steiçion wa ùndèr Çiti Gārdèn Hotel in Feis 2.
Iksit A:

Çiti Gārdèn Hotel
Olympia Sentā

Iksit B: Norŧ Point Allàins Čöč
Iksit C: Dada Dept Stor
Iksit D: Bāsí Stop tu Skūls
Iksit E: Elektrik Roud Örbàn Kompleks
Ikstörnol liŋk
Edit
Ad blocker interference detected!
Wikia is a free-to-use site that makes money from advertising. We have a modified experience for viewers using ad blockers

Wikia is not accessible if you've made further modifications. Remove the custom ad blocker rule(s) and the page will load as expected.