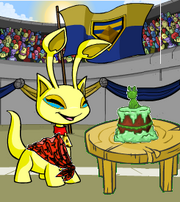 Aiša-wa änimol from Neopia. Aiša houci miao bùt 4-zek yízài yuga. Đe 2 yízài in middol ga für litsèniŋ tu saunds veri far en keyi wök laik antenna.
Käraktāristik
Edit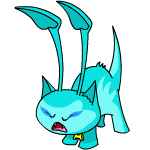 Aiša-wa klevā-na änimol en laik dansiŋ. Ol Aiša ga "A"-logo on nek oaru. Aiša de fur keyi šihéi when bikom ängri. Bikos 4-zek yízài oari, Aiša-ga veri sensitiv in saund.
Feimùs Pīpol
Edit
Related items / Rileiten aitems / 相關物品
Edit
Some of the many Aisha-related items are
Ikstörnol liŋk
Edit
Ad blocker interference detected!
Wikia is a free-to-use site that makes money from advertising. We have a modified experience for viewers using ad blockers

Wikia is not accessible if you've made further modifications. Remove the custom ad blocker rule(s) and the page will load as expected.