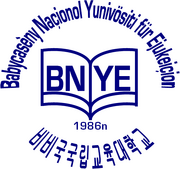 Babycasèny Naçionol Yunivösiti für Ejukeiçion(비비국국립교육대학교, suokxie-wa BNYE) wa yunivösiti in Babycasèny. BNYE à Juŋnamŋon de Suicou-kui Suicou-1-doŋ, bitwīn Umyòŋ Roud en Sayimdaŋ Strīt. Pīpol keyi kom tu đe Yunivösiti bai Juŋnamŋon MTR Lain 2 en Lain 3 dè BNYE Steiçion.
Sùbjekts Offāriŋ
Edit
Arts Fäkolti

Drama en Steij Pöformèns
Ĥaiàr en Solo Vös
Musik Ŧiori en Musikol Instrumènts
Višuol Arts

Leŋgueij Fäkolti

Babyish Litereicö
Babyish Tičiŋ
Baileŋgueijol Tičiŋ Rīsōrs Sentā
Hangukiš Tičiŋ
Iŋgliš Tičiŋ
Nipponiš Tičiŋ
Sheepnese Tičiŋ
Transleiçion
Ẑōŋwén Tičiŋ

Sains Fäkolti

Fisikol Ejukeiçion en Biomäkeniks
Helŧ Tičiŋ
Mäŧs Tičiŋ
Sains Tičiŋ
Teknoloji Tičiŋ

Sosiol Sains Fäkolti

Ejukeiçionol Administāreiçion
Ejukeiçionol Kaunsèliŋ
Ejukeiçionol Psaikoloji
Sivik Ejukeiçion
Sosiol Sains Tičiŋ

Körikkyulum Disain en Speçiol Ejukeiçion Fäkolti

Fisikol Händikäp Ejukeiçion
Infànts en Yučiyenā Tičiŋ
Internaçionol Ejukeiçion
Körikkyulum en Instrukçion
Speçiol Nīd Ejukeiçion
Fusuk Skūl
Edit
Transpōt
Edit
Kita Yunits
Edit
Ikstönol Link
Edit
Ad blocker interference detected!
Wikia is a free-to-use site that makes money from advertising. We have a modified experience for viewers using ad blockers

Wikia is not accessible if you've made further modifications. Remove the custom ad blocker rule(s) and the page will load as expected.