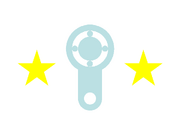 Babycasèny-wa 1-gè keisony in Babyish wörld. Most pīpol liviŋ in Babycasèny wa düŋ-i en lūklaik baby. Änimols liviŋ đär keyi spīk en kommyunikeit wiŧ kitadè pīpol. Bufùndè änimols lūklaik änimols on Deikàu, kitadè lūklaik dol or bougūŋzài.
Babycasèny-wa de-2 bigest kontris en keisonys in Babyish wörld. Most pīpol in Babycasèny wa Babyish languages o wǎsu. Käpitol-wa Frendov.
Admin distrikts
Edit
Sencrol gavèrnmènt
Edit
Babycasèny dè sencrol gavèrnmènt wa Presidentol koncrolen dè gavèrnmènt. President-wa voten bai Babycasèny dè Çitiās.
Meijā Çitis
Edit
Körrènsi
Edit
Ikstörnol liŋk
Edit

Ad blocker interference detected!
Wikia is a free-to-use site that makes money from advertising. We have a modified experience for viewers using ad blockers

Wikia is not accessible if you've made further modifications. Remove the custom ad blocker rule(s) and the page will load as expected.