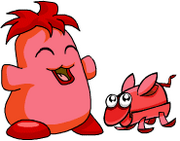 David369874512(2006n 6m 7d—)-wa racbb dè Qiaqia(Chiachia) pet à Neopia.
Introdukçion
Edit
David369874512-wa huŋsik-na namzài Qiaqia, 2006n 6m 7d 20:00 à Neopia cutsài. Leitā, David bikom gūyi. 2007n 1m 22d, wingamoom adopted David from Neopets Pound en let racbb teikkär David.
David369874512 dè petpet wa Weeblebb le Wībol. David369874512 geted Weeblebb from racbb für 198d en 14h.
Ikstörnol liŋk
Edit
Ad blocker interference detected!
Wikia is a free-to-use site that makes money from advertising. We have a modified experience for viewers using ad blockers

Wikia is not accessible if you've made further modifications. Remove the custom ad blocker rule(s) and the page will load as expected.