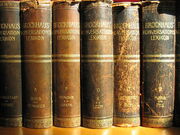 Ençaiklopidia-wa loji dè kollekçion in būks or informeiçion formät.
Etymoloji
Edit
"Ençaiklopidia" nigè wörd wa orijineited from Iŋgliš dè "encyclopedia", en orijineited from Latiniš, adopted from Hellasiš dè "εγκύκλιος παιδεία", enkyklios paideia. Yiyǐ-wa "tīčiŋ in sökolik form". Đe wöd "εγκύκλιος" (formiŋ sökol) formen bai "κύκλος" (sökol) en "παιδεία" (tīčiŋ).
Iksampol
Edit
Printen ençaiklopidia
Edit
Onlain ençaiklopidia
Edit
Ad blocker interference detected!
Wikia is a free-to-use site that makes money from advertising. We have a modified experience for viewers using ad blockers

Wikia is not accessible if you've made further modifications. Remove the custom ad blocker rule(s) and the page will load as expected.