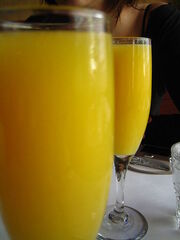 Mimosa kokteil wa, Buck's Fizz in Deikàu dè Unaiten Britian Kiŋdom, kokteil kompositen bai:
Tradiçionolli sörven in cöŋ-i champagne flütglās wiŧ morniŋ brùnč, or sörven tu gests in Westèrn-staiyol wediŋs[1][2]. Sòmtaims sörven in De-1-klassifaienī sīts on äropleins. Asua 2-zúŋ ingrèdiènts wa ŧrūli čillen, đen miks tugäđā intu đe flütglās. Sörv when kokteil wa hon-i.
Pīpol keyi sùbstityut sparkoliŋ-wain wiŧ kitadè lemon-laim soft yùmmimàt tu krieit non-alkoholik or "mocktail" värieiçion, kolen as fauxmosa. [3]
Mimosa kokteil wa rīportenli inventen à Paris dè Ritz Hotel àraund 1925n.[3]
Orangina or a tablespoon of Grand Marnier (teknikolli a Grānd Mimosa) wa sòmtaims ädden.
Riförènses
Edit
Adam Savage "MythBusters" Season 2, Episode 23
Field, Colin Peter (2003). The Cocktails of the Ritz Paris. Simon and Schuster. ISBN 0743247523.

 
Ikstörnol liŋks
Edit
Ad blocker interference detected!
Wikia is a free-to-use site that makes money from advertising. We have a modified experience for viewers using ad blockers

Wikia is not accessible if you've made further modifications. Remove the custom ad blocker rule(s) and the page will load as expected.