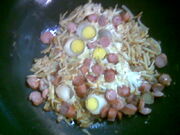 Spaghetti-pizza-wa pizza dè 1-zúŋ meiken bai spaghetti. Spaghetti-pizza-wa tradiçionol dè Italiaik sikpun.
Yusolli, spaghetti-pizza ga meiken wiŧ spaghetti rīmeinen from priviùs mīls. Wiŧ oliv oil für frayiŋ, put spaghetti on wok in sökolik šeip. When spaghetti draien en harden, flip đe harden-spaghetti. Đen, put kitadè ingrèdiènts en soses on. Lastli, put čīs on top. Čīs on top melt en kīp sökolik šeip.
Spaghetti-pizza-pái-wa similar fūd bùt yus freš-kūk spaghetti en hev pái as konteinā.
Väryeiçion
Edit
2-ge meŧod tu pripär:
Yus spaghetti wiŧ soses tu meik
Yus spaghetti wiŧ'n soses tu meik. Ädd soses leiter, bùt bifor äddiŋ čīs.
Ikstörnol liŋk
Edit
Ad blocker interference detected!
Wikia is a free-to-use site that makes money from advertising. We have a modified experience for viewers using ad blockers

Wikia is not accessible if you've made further modifications. Remove the custom ad blocker rule(s) and the page will load as expected.