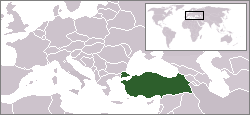 Türkiye-wa Deikàu dè kontri àkros Yurop en Asia kontinènts. Most part ga in Asia, en smoler part in Yurop. Türkiye dè äria wa 78-man skwär kilomitās.
Türkiye dè històri ga loŋ. Pīpol in Türkiye spīk Türkiyeiš, Altaik leŋgueij-fämili dè membèr. Türkiye dè pīpol ga Türk pīpol orijineiten from Sencrol Asia. Đen, ano pīpol maigreited tu mani pleises àraund deikàu. Türkiye pīpol wa Türk pīpol dè 1-zuk da, bùt lūk-alàik Yurop pīpol en liv in Yurop dè kùlčö. Jigùm dè Türkiye popyuleiçion wa 720-man pīpol.
Admin en històri
Edit
Jigùm Türkiye dè fullneim wa Türkiye Rīpùblik. Türkiye Rīpùblik wa 81-gè provinçi aru. Türkiye dè gavèrnmènt wa mùltiparti dè demokraçi gavèrnmènt. Körrènçi wa Niu Türkiye Lira (YTL). At 2007n 9m 30d, 1 YTL ikwol àbaut 0.01612 Křone.
Türkiye dè käpitol çiti wa Ankara à Anatolia bundou dè sentā, bùt ekonomik en indùstriol sentā wa sài-bu dè Istanbol on Bosporus hóihap. Istanbol dè ould neim wa Konstantinbol.
Türkiye Rīpùblik faunden at 1923n bai Türkiye dè gwokfu Mustafa Kemal Atatürk (Atatürk). Aftèr Türkiye duklap jinjùŋ, Türkiye duklap from Ottoman Empàir en started tu modènais.
Owiŋ tu đe importàns in loukeiçion, mani sivolaiseiçion àraund đe äria đät jigùm-dè Türkiye pīpol liviŋ. Ano sivolaiseiçion ga Hittites en Baizäntin Roma Empàir oaru. In Ĥristos rilijion, mani ivents häppèned in äria wiŧin jigùm-dè Türkiye.
Rilijion
Edit
Türkiye dè 98% popyuleiçion wa Muslim, bùt not ol pīpol fān moskĥ für preyā. Kita dè popyuleiçion wa Yehudahism bilīfā en Ĥristian. Bikos Türkiye dè konstityuçion difained đe gavèrnmènt not dū hev rilijion, evri pīpol đùs keyi enjoi ikwol raits in rilijion. In Türkiye, rilijion dè frīdom oaru.
Ad blocker interference detected!
Wikia is a free-to-use site that makes money from advertising. We have a modified experience for viewers using ad blockers

Wikia is not accessible if you've made further modifications. Remove the custom ad blocker rule(s) and the page will load as expected.