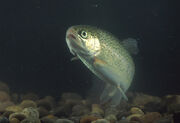 Trout-wa Salmon-fo Salmon-afo dè 4-gè-suk dè ör:
鱒魚是一群分類上屬於鮭科鮭亞科的魚類的俗名。
所有被稱為鱒魚的魚類都是鮭亞科的成員。鱒魚常被用來指鮭亞科7個屬中的3個:Salmo屬、Oncorhynchus屬和Salvelinus屬的魚類,不過不是所有這些屬下的魚類都被稱為鱒魚。
被稱為鱒魚的魚類包括:
Käraktèristiks
Edit
Most trouts wa tamsuiör liviŋ in klīri strīms, rivās en wusui in Norŧ en Souŧ Amerika, Yurop, en Asia.
Trout diffèr from kitadè ör à de-2-pär dorsol fin (or adipos fin). Osou, mäcuren dè trout ga spots oaru en yauŋ dè trout ga parr-marks oaru.
Ad blocker interference detected!
Wikia is a free-to-use site that makes money from advertising. We have a modified experience for viewers using ad blockers

Wikia is not accessible if you've made further modifications. Remove the custom ad blocker rule(s) and the page will load as expected.